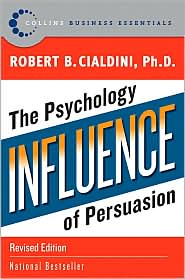 Today I wanted to write a quick post about one of my absolute favorite marketing books, "Influence: The Psychology of Persuasion".
Now this actually wasn't intended to be a book for marketers, in fact, it was intended to help people to recognize the most effective things that sales people and marketers do that can influence a person's decision to make a purchase.
The author is Dr. Robert Cialdini, the head of psychology at Arizona State University.  During 20 years of research Dr. Cialdini uncovered 6 foundational principals that are ingrained in people.  These principals can be activated to cause un-avoidable persuasion.
This book has literally changed everything that I do in marketing and sales.  What you can learn from this book is extremely powerful, and I highly recommend that you read it.
All 6 of these principals have been purposely integrated into my products that are available to insurance agents for marketing their business online.  I've written an article about a technique I developed using these persuasion techniques to get mass referrals out of your existing customers.  You can read it by Clicking Here